Health and Dental Insurance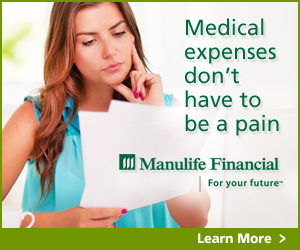 If you are self-employed, retired, or find that your workplace benefits do not give you enough coverage or have been terminated, you can purchase excellent benefit packages for yourself, or for your whole family.  Manulife Financial offers excellent Health and Dental Insurance online through independent broker John (Jack) Bergmans of Bequest Insurance. Follow the links below to learn more, get quotes and purchase insurance.  
Health, Dental and Extended Health Care
Manulife Financial's FlexcareTM allows you to custom-design your health insurance plan. You can choose DentalPlusTM, DrugPlusTM or ComboPlusTM  offering dental coverage, drug coverage or a combination of both. These core plans also include vision care, emergency medical travel coverage, extended health care such as registered specialists and therapists, accidental dental, homecare and nursing, Health Service Navigator®, accidental death and dismemberment, and more. Some plans do not require a medical to qualify.
You also have the choice of many add-on benefits, if you want increased coverage in any specific area.
Click here to learn more, get instant quotes and buy Flexcare online.
Want to comparison shop?
Contact Bequest Insurance to learn more about this type of insurance.  
If you want us to get you alternate quotes to Manulife's, click here.