Critical Illness Insurance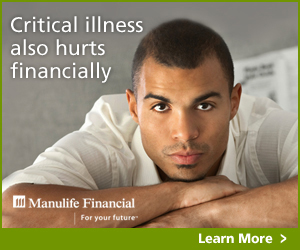 If you develop a critical illness that leads to income loss and high medical bills, having critical illness insurance can give you peace of mind.  Manulife Financial offers excellent Critical Illness insurance online through independent broker John (Jack) Bergmans of Bequest Insurance. 
Manulife's Lifecheque Basic Critical Illness Insurance offers:
Coverage for 5 major illnesses including cancer, heart disease, stroke, aeortic surgery and coronary artery bypass surgery.

Lump sum payments of $25,000, $50,000 or $75,000 with a Return of Premium option.

Coverage for applicants between the ages of 18 and 75.
Click here for immediate quotes and to buy Lifecheque insurance online now. 
Want to comparison shop?
Contact Bequest Insurance to learn more about this type of insurance, or to compare Manulife's insurance to similar Canadian products.